Always wanted to look elegant and extra feminine? I have a solution for you!
If you want to feel confident yet feminine and comfortable you need to learn how to wear long sleeve maxi dress. This is the number one top thing in my closet and even basic wardrobe goes secondary. Yes, you understood me right, it's a maxi dress that is fitting your body shape. I am happy to introduce you the dress from my Filosofashion shop.
Why you should be wearing a maxi long dress
It's suitable for almost any occasion even if it's just casual. Long dresses can be worn with any kind of shoes from a high heel to flats and my favorite sneakers. Especially the last ones if the dress type allows you to do so. Can you imagine wearing a dress all day long at work or running errands and after not even changing it because you can only change your shoes and be ready to get to a party? With the dress that I show it's definitely possible!
Cotton bodycon dress with sleeves is basics!
This is my most favorite dress ever because it's made of organic cotton blend. So that also means that this dress is lightweight and doesn't feel heavy on your body. Its beautiful colors represent the desert with the feminine touch. It has long sleeves and a turtleneck neck covering everything which is also perfect for women that strive to be modest yet attractive and modern.
Sustainable fashion is a very important thing and one of the ideas that we should stick to. And let's be honest, good quality things look much better than low quality. It doesn't mean they must be more expensive, right on the contrary! Cotton is very affordable and everyone should be wearing it! Check out the dress that I have created.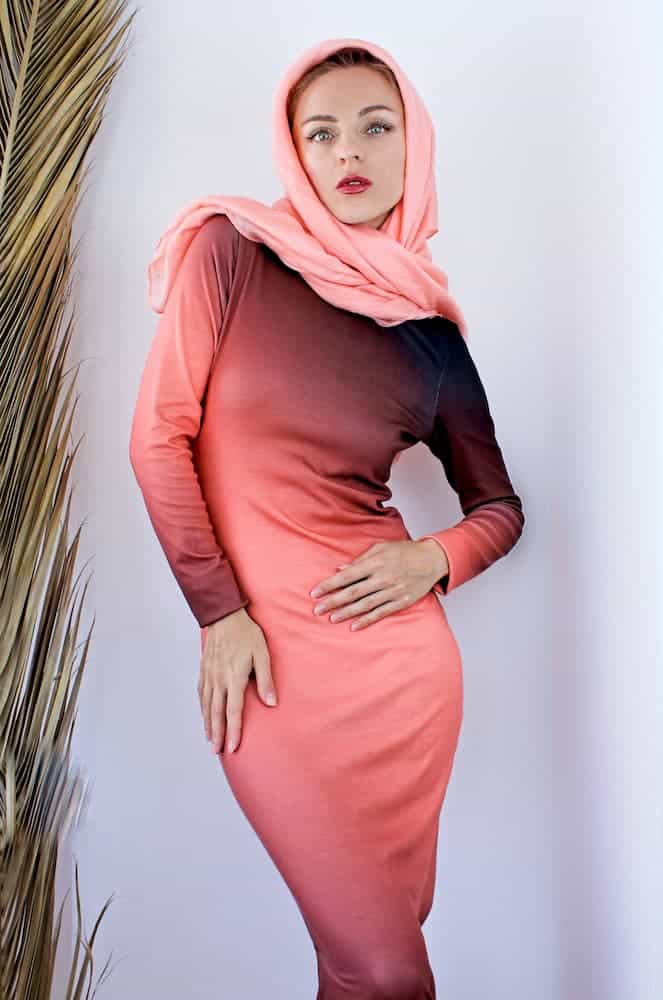 How to make a bodycon dress modest
The dress is a perfect solution for women whose religious beliefs are strict. But as we all know, women always want to look beautiful and flattering. Not showing too much skin is all about your modesty. But nobody said the dress cannot be attractive. This dress makes it all for you because of its colors and feminine touch.
It's not provocative, but it's still very eye-catching and charming. You automatically feel more empowered as a woman because you withhold your sexuality. You become a magnet! And this is what I am trying to teach every woman! Be unique – be You!