How to know if you have an Apple Body Shape?
If your body shape looks similar to this, you are an apple body type
You are in great shape because your body type is magnificent when picking a wardrobe! Congratulations, dear!
Your shoulders and generally upper body are broader than your lower part.
Hips are not too curvy.
A well-defined waistline may be a problem (If you do, your body shape is not an Apple body type but an hourglass).
Additional Helpful Information
Related: This class on body shape capsule wardrobe will help you understand your proportions much better and choose the best clothes as per your body's geometry.
I have a long explanation of an apple body shape and what you need to wear in general.
If you have any doubts about whether you are an apple shape or any other, please visit this article and get acquainted with additional styling information.
This is all to help you know your body better and get a higher sense of fashion.
Apple Shaped Body: Capsule Wardrobe – What is it?
A capsule wardrobe is a set of basic clothes that suit any other pieces you have.
Whenever you have no time – you need to have a "capsule wardrobe" that always looks good. This capsule wardrobe will be your "saver" at any time and situation in life.
A capsule wardrobe is suitable for:
Office/Work outfit
Casual outfit
Going Shopping outfit
Night Out outfit
Birthday/Party Outfit
Can you imagine that all these outfits can be pieces of one capsule wardrobe that do not need to be huge and take up all the free space! I love minimalism, so as a personal stylist.
I highly recommend a personalized capsule wardrobe for your apple body shape! It's just a must when it comes to the question, "Oh, where do I begin"?
Tops for an Apple Body Shape
All good basics always start with a white button-up shirt and a basic white T-shirt. In this regard, we need to think about quality!
Remember that 100% cotton, mulberry silk, and linen are the best choices for letting your skin breathe and feel good.
We need to pay closer attention to the neckline of an apple-shaped body.
Not all neckline forms will suit you the best.
I have prepared a couple of good examples where you can see that are:
Plunging V-necks in any silhouette
Deep U-neck cut
Button Up Shirts
A-line silhouette
Pay attention to your arms and shoulders. If you think you are suitable for strapless or sleeveless – go for it!
If you prefer to cover up, try a more fitted sleeve to help balance your bosom and tummy. If you are curvy, try to elongate your neck with V-neck or scoop-necks.
Avoid colors that are not a part of a capsule wardrobe, like neon shades, and those that are too bright and would make it impossible to mix in everyday style.
If you want to try something like bright red, you need to think if the rest of your wardrobe will match. If not, try burgundy instead; it's a part of an essential capsule!
Jeans/Pants for an Apple Body Shape
Everybody has jeans in this world! Those became so popular that I cannot even imagine anyone not having a pair of jeans.
If you already understood me, your capsule needs to have at least one pair of the best possible pants you can think of.
These jeans have to suit any occasion, even if you go to a wedding (I'm kidding).
Those jeans need to be your first choice!
What form of jeans do you need to pay attention to:
Skinny Jeans (because you are known for magnificent legs).
Flared jeans (perfect for elongating if you are petite)
Classic (no embellishment, no holes, applique, flowers, etc.)
Dark-colored preferred: black, blue, grey (to conceal your bottom if you'd like to)
Vertically Striped (will make you look slimmer)
Avoid Funny patterns if you are curvy because the whole body may appear disproportionate.
Be Careful with light-colored pants: white, beige, and bright colors like yellow, etc.
You might want to think about an elongated cardigan or a tunica mixed with that (preferably A-lined).
Blazer for Apple Body Shape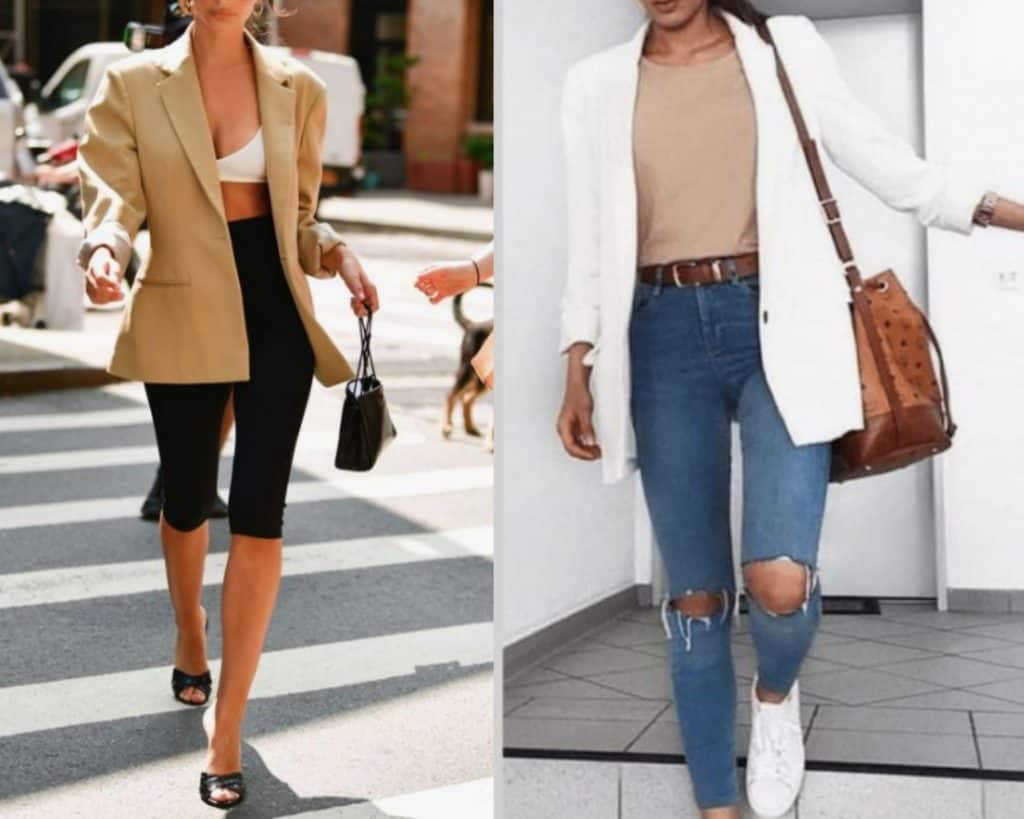 Now, you will want to seal the look with a thing that defines your attitude but still shows some style.
It's always a blazer for me. Plus, it's perfect for work and fits better than a jacket during colder times. For a capsule wardrobe – it's an absolute must!
Let me remind you, a deep V-neck will do you good by adding enough space in the decolletage area, which will elongate your body structure.
Look at this selection I have here:
KIMONO is a must-have for your body type
Are you wondering why kimono would be the perfect choice for you? I will tell you that it's not only for your body type but also for all women out there!
It's the universal piece of a garment I can find, and it's suitable for those that do not like getting too formal.
This is a perfect choice for getting something that will even out your upper body and bottom, emphasize your waistline, and even stress your neckline!
Look at this selection:
You can wear it alone, with your favorite jeans, a dress, leggings, and shorts. It can be a perfect substitution for a dress or a summer coat.
It is the most feminine clothing, and I am just in love with it!
A Dress for an Apple Body Shape
You will say that you already know that a little black dress is a must for every woman worldwide.
I will say that it's not entirely accurate! For example, I have a black dress and guess how many times I wore it.
Right, 0 times! Why? Because black doesn't compliment my skin tone and body shape as much as other colors do!
There are other darker shades if you do not want to wear black.
And this is why I remind you to take a closer look at your skin tone and figure out whether you are warm tone skinned or cold.
For instance, I have warm blond hair, green eyes, and skin tans easily with a yellow skin undertone. So I am a "warm" type.
I can wear a green emerald, burgundy, blue sea, or light beige colors as necessary.
A Helpful tip about Warm and Cold Skin Undertone.
Here you can also find your seasonal color palette and figure out which tone and undertone suit you specifically.
I have great information for you if you want to find your skin type and colors that suit you.
When it comes to the type of dress, I always recommend:
Flared sleeves
A-line styles look fantastic on your body type, which also goes for skirts and coats.
Maxi styles will bring more flair and feminine taste to your shape. If you feel like you can wear fitted styles – feel free to stress on your bottom. That would be a great idea to try something from the beige color range.
Mini-style skirt and shorts because of your beautiful legs!
A Skirt for an Apple Body Shape
A skirt is not necessarily a must if you are a "pants" girl. But I'd give it a go if you want to feel more feminine. I'd recommend:
Flared silhouettes
A-line
Pencil skirt if you need not hide your bottom, or you will wear an elongated blazer, tunica, or kimono that will conceal the rear.
Look at this selection over here:
Shoes for a Perfect Capsule Wardrobe
When it comes to capsule wardrobe shoes, you must know that it all depends on the lifestyle you choose.
If you are a sporty girl, do not invest in expensive Louboutins just because a stylist said so; take a look at something you may use.
And vice versa, if you wear heels daily, maybe Balenciaga-like sneakers are not your best option for investment.
Look at this perfect selection:
What kind of should always serve good to any woman in the world are these high-quality authentic leather shoes:
Kitten heel in beige and black colors
Loafers in Black and Silver
Sneakers up to your preference
Avoid trendy "ugly" shoes like Balenciaga, Combat Shoes, funny prints, and synthetic materials.
Bag for a Capsule wardrobe of an Apple Shaped Body
When it comes to a bag, of course, one cannot measure it for body shape when we are travelling, or we are really in a situation where we have to pack a lot of things.
It's all as per personal preference or other lire requirements.
Just do not forget about your perfect capsule wardrobe and consider whether it's a good idea to spend money on something you are unsure about.
I mean something that requires substantial spending on luxury.
I always recommend trying out a good quality genuine leather bag that is not worse than the luxury brand. For example, that could be something like Michael Kors.
They have a lovely real Saffiano leather bag suitable for work and any other occasion.
READ MORE:
APPLE BODY SHAPE: WHAT TO WEAR
CAPSULE WARDROBE: WHAT TO WEAR
INVERTED TRIANGLE BODY SHAPE: WHAT TO WEAR
RECTANGLE BODY SHAPE: WHAT TO WEAR