Do you think you have an inverted triangle body shape?
Here is what you need to know about your body shape!
How would you know it is you? As an actually inverted triangle body shape owner, you have broad shoulders and a very tiny bottom.
How to quickly resolve your problems with the body shape
The goal of your body type is the recreation of an hourglass type figure. You need to work primarily on your bottom to fix the disproportionality.
You could quickly achieve an hourglass shape; you need to take off the stress from your shoulders and add up to the bottom.
Tops for an inverted triangle body shape
I would definitely stress on a v-neck, low round, cross over, cowl, square neck.
By doing that, you will add a space in your upper body, emphasizing only the neck while hiding the shoulders.
That would be a great idea if the top you chose was loose and had a lot of "room."
This season oversize is right for you. You can indulge yourself in the luxury of wearing loose tops and jackets.
Your inverted triangle body type preferences for the Bottom
Most pants and jeans styles look great on your inverted triangle shaped body. Slim, straight, bootleg and wide leg all work for you.
I would pay attention to A-line skirts or any length; silk "pyjama" skirts could also be fitted pretty well. That will even out the silhouette. Please check out the fashion collage.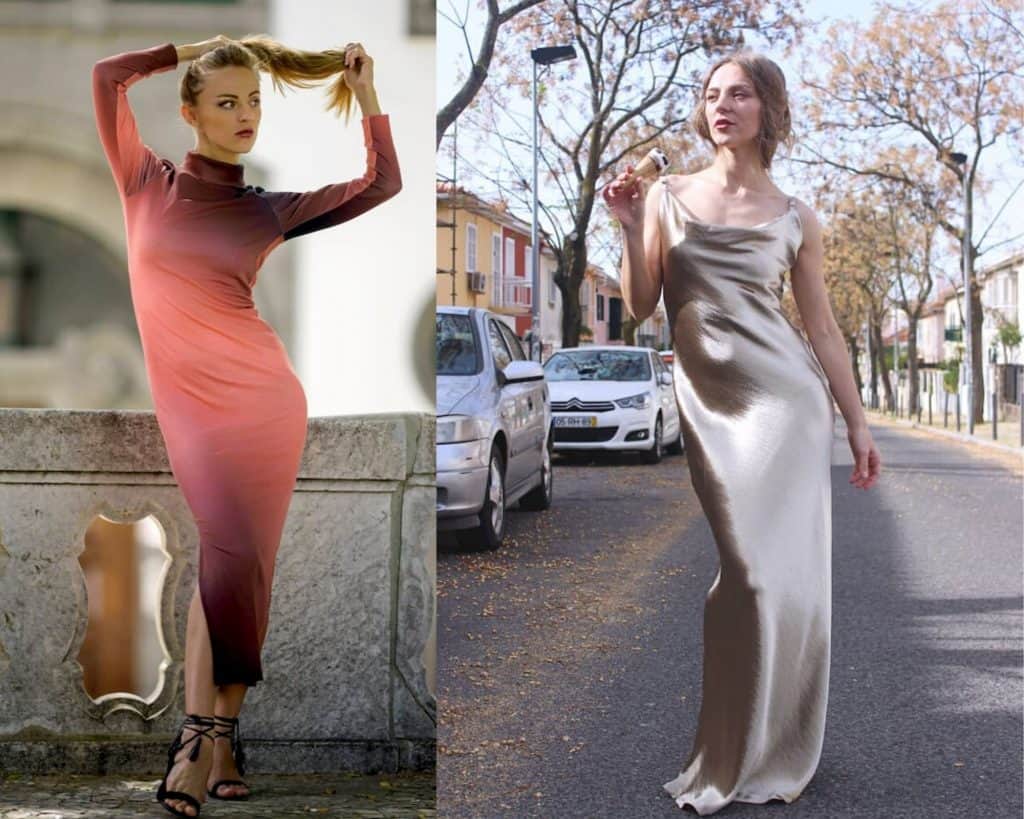 Dresses in stretchy material in a straight shape with high or mid waist definition are the most flattering and will fit your upper body. Pick the size that fits your shoulders and bust nicely.

How to dress petite inverted triangle
If you are petite, that does not mean the "rules" stated about don't work. They do!
The only thing that you would add up is that you would need to work on the length of your legs a bit more.
In this case, you also need to know "How to look taller."
My number one preference and advice to everyone is to try out the flared trousers or jeans.
Especially if you have an inverted triangle body type – that must be in your everyday wardrobe.
There are different types of flared trousers.
High Waist Flared Trousers
Flared Knee Length Pants
Waist Flared Trousers
With High waist pants, you will add up the height that your petite body usually lacks.
The flare will even out your body shape by creating the hourglass figure.
And if you want to wear a fitted top, that will be possible with flared pants.
Just try to find the V-neck cut and feel free to wear any type of flared trousers.
Accessories for inverted triangle body shape
Here is what would help the inverted triangle body type create the perfect accent.
The belt will always be a good idea because you want to emphasize the waistline that you have.
That will make you look more structured with accurate womanly shapes.
This season this trend is scorching.
Elongated shape earrings will make a perfect accent on your face.
That will distract attention from your shoulders and attract to your face, hair, and other accentuated features like a belt.
The whole look and outfit will not be shapeless.
READ MORE ABOUT BODY TYPE WARDROBE: